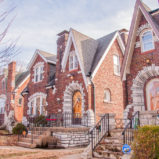 Underrated Architecture in Southwest City Neighborhoods
I've recently been taking a closer look at details and architecture in Southampton and Princeton Heights after admiring some of the character in my new listing at 5643 Rosa in Southampton. These neighborhoods are stalwarts of South City culture and are known for well kept yards, gingerbread style homes, and strong sense of community. One thing that's never talked about is just how impressive the architecture is in these neighborhoods. I think that's probably due to the fact that these buildings are more moderately sized compared to some of the more celebrated concentration of architectural gems in the city like the Central West End, Lafayette Square, and Compton Heights. The most impressive houses in the more celebrated neighborhoods are massive and sprawling compared to the smaller housing stock available in the southwest part of the city but it doesn't mean Southampton, Princeton Heights or even parts of Lindenwood Park are lacking major character.
I glance across the street and up the block on the 5600 block of Rosa and many of the arched doorways and windows are framed in cut stone or an inlayed brick pattern. I see original art glass and wrought iron railings on nearly every home. There is decorative brickwork, tudor style turrets, and handsome roof lines with several soaring gables. The streets have uniform building setbacks and mostly consistent window positions yet each house has its own unique character in some way making the built environment feel cohesive and connected. This is healthy for an urban landscape.
For all the consistency there are some really interesting variations even on some of the smaller less grand homes. For example there is a house just a few blocks south of the intersection of Rosa and January that has a large round awning covered completely with slate tile. There are a couple of examples of Mediterraneans complete with textured beige stucco and clay tile roofs. One house on the 5600 block of Rosa has a massive covered in stucco. There is one corner building that is a typical mixed use style building with retail on the main floor and plate glass windows facing the street with an apartment above. This is common in older parts of the city but atypical in the mostly residential environments in Southampton and Princeton Heights. Most corner buildings are single family homes and multi-family dwellings. Another corner building of note is a sprawling one-story duplex with one entrance on January and one on the side street. Both entrance have handsome brick porches and original front doors. Some other variation you see throughout the neighborhood are gothic arch details on different parts of the exterior, occasionally a striking green tile roof, accents of cut stone, and window variation. There are also some art deco style 4–families on the south end of the area near January and Loughborough that brings a dash of a whole different style to the neighborhood
The sections of these neighborhoods west of Macklind and between January and Hampton in particular are the most interesting when it comes to the architecture. These tend to be the largest houses in the neighborhood, have the most architectural detail, and the most variation. Residents should be proud and non-residents should take a drive or a walk through to enjoy!
Posted by JWillen on Jan 21, 2017 in Architecture, Lindenwood Park, Princeton Heights, Southampton | 0 comments