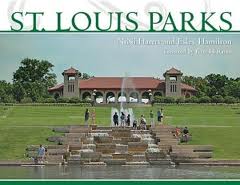 I caught an article on stltoday.com last week about a new book on parks in both St. Louis City and St. Louis County. Thinking that I knew some, if not all of the best park options in the area, I was surprised to read about others that I was not aware of at all. Others I was quite aware of such as Benton Park in my neighborhood and Bee Tree Park in Oakville, both of which are quite underrated. I have yet to pick up a copy of the book but I plan to next time I'm at Left Bank Books.
St. Louis Parks by Nini Harris and Esley Hamilton is a tribute to one of the St. Louis area's greatest assets, the park systems. St. Louis City, in particular is spoiled with so many beautiful urban parks. Green space was once at a premium in St. Louis with nearly a million people packed inside the city limits alone prior to mass exodus to the suburbs post WWII. Harris and Esley describe the parks as places where people could go to decompress and even restore their sanity that could be shaken by life in a gritty, polluted urban area. Today the population of the city is less than half what it was at its height in the early 20th century but the parks remain as a relic of the era and remain beautiful and functional today. St. Louis County built on this foundation and took it to whole new level with masterpieces of outdoor spaces such as Creve Coeur Park and Castlewood State Park.
The article in the post called particular attention to Bellerive Park in south St. Louis, which I was unfamiliar with despite it being only a couple of miles from my house down South Broadway.  I've driven by it many times but it all seems to blend when you are whizzing down Broadway.  Its hard to decipher what is the Altenheim vs. The Bluffs on Broadway vs. the park etc.  The authors indicated in a Q&A that many people enter the park from Broadway but its best entered from Bellerive Ave so you can view the river through the arches upon entry.  Yesterday I decided to have a look at it for myself.  I made my way down South Broadway watching for the park on my left knowing that once I crossed bates it would be in the next couple of blocks.  I still managed to pass the Broadway entrance which was fine because I wanted to come in over Bellerive.  This is somewhat tricky because you can't turn onto Bellerive from Broadway because of the viaduct leading over Broadway directly to the park.  I turned down the next street south and went back to Bellerive and turned right onto the golden viaduct leading into the park.  The view coming into the park was great looking through the golden arched pavilion straight out onto the river.  There were close to a dozen people/kids on the playground and several more taking in the view from various benches and other strategic spots near the entrance.  The view of the park reminds me of the North Riverfront Park, which many cyclists will be familiar with, but with a higher vantage point.  For the views and the quiet atmosphere its surprising how relatively unknown Bellerive Park is.
I've long told clients that a park view or park location in St. Louis is like a lake view or ocean view in other cities.  They can't make an more real estate around these parks and the property values tend to be higher because of the views.  They add great livability to an urban streetscape and tend to be in highly desirable locations.  This book sounds like it does a great job of presenting our parks in this way and also shedding some light on many of the lesser known gems in both the city and the county.