Clayton

Clayton is an inner-ring suburb of St. Louis on the eastern edge of St. Louis County.  Its border lies just 1 block from Skinker on the east, Clayton Ave. on the South, just west of I-170 on the the west.  Clayton and U City share a disjointed border on the north that varies from block to block. The building stock ranges from 1920's brick 2-story structures to large 10-20 story mixed use buildings that house condos and offices.  The eastern part of Clayton sharing a border with St. Louis City is home to older buildings consisting mostly of 2 story brick single families with occasional 2-family and apartment or condo buildings.  The western edge of Clayton consists of mid century ranches and some high dollar new infill housing.  The center of Clayton is a thriving downtown area with highrise buildings that house major corporate headquarters, hotels, office space, and condos.  Clayton serves as a 2nd Downtown area that rivals Downtown St. Louis in every way only slightly more concentrated.  Entry level condos will begin in the $120's while homes in Clayton will begin in the low $400's and range all the way up to several million.
Clayton is known as one of the most exclusive areas to live in St. Louis and is home to many of St. Louis' wealthiest and most influential people and families.  St Louis County's government is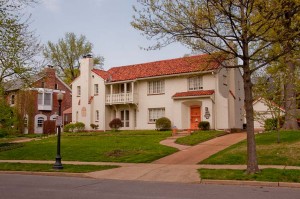 headquartered in downtown Clayton in addition to all the private business that is based in Clayton.  For this reason many residents choose to live in Clayton for its convenience as a business and government center rather than commuting from other areas of the city and suburbs.
Clayton is flanked on the east by Forest Park, one of the greatest urban parks in the United States.  Forest Park is home to the St. Louis Zoo, The Muny, Steinberg Skating Rink, The Missouri History Museum, miles of running and biking trails, and countless athletic fields.  Also in the center of Clayton near Clayton Highschool is Shaw Park which features its own trails and athletic fields.  Also in the park is one of the areas best pools featuring high dives and Olympic platforms.
Washington University, which sits on Clayton's eastern border, is among its greatest assets.  Wash U is world class university that is on par with Ivy League schools and has an endowment to prove it.  Undergraduate and Graduate students come from around the world to study at Wash U in every imaginable discipline.  Their faculty come from all over the world as well.  Wash U contributes to Clayton's reputation as a home to a dynamic and wealthy demographic while adding extra energy that comes from the diverse student population that surrounds any college campus.
There are few amenities that Clayton cannot boast, but among the things that can be found in Clayton are some of the areas best hotels and restaurants, gourmet grocery stores and pharmacies within walking distance, and a Metrolink station for quick public transportation through the central corridor.  Every imaginable convenience is available within a five minute drive along Hanley or Clayton Road including most national chain restaurants and big box stores.
Clayton school district is routinely ranked in the top 3 public school districts in the state of Missouri.  The number distinction of best school district normally goes to neighboring Ladue Horton-Watkins.
Although chain restaurants and big box stores are easily accessible Clayton lacks nothing when it comes to culture.  Every imaginable cuisine is available in Downtown Clayton including some of the St. Louis area's best restaurants.  Museums and Concert Venues are nearby on Wash U's campus, Forest Park, and in The Loop.
For current listings in Clayton please complete the form below
Your listings will be sent today!
Map
Listings
Schools
Something went wrong. No data is being returned from education.com.
There are no schools near by this property.
Market Stats
Financing
Neighborhood Amenities